2D-S (Stereo) Probe
Optional page type selection for this item:
Image for Instrumentation or Services Page: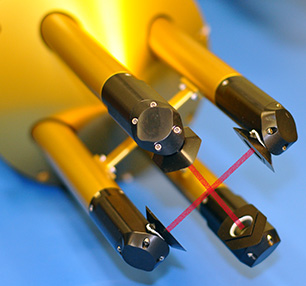 Highlights of the 2D-S (Stereo) Probe
Two 128-photodiode linear arrays work independently as high-speed and high-resolution optical imaging probes.
Captures two-dimensional images of particles passing through sample volume where laser beams overlap.
The region where the beams overlap uniquely defines the depth-of-field (and thus the sample volume) for small particles.
Response time is 10 times faster than the 2D-C.
Particles as small as 10 microns imaged at 200 m/s.
Greatly improved determination of sample volume and sizing of small particles less than 100 microns.
Data rates up to 13 MB per second, compressed into binary file.
Fits in standard PMS 2D canister and uses standard wiring.
Operation and Data Analysis
2D-S is extremely easy to use. Turning on power to the probe automatically starts communication with the computer. Recording a data file is as easy as one button. Real-time software displays to the operator housekeeping data and a small sampling of the particles recorded. Artificial Intelligence parameters keep the instrument operating at its best, making the instrument almost hands-free with little necessary oversight. The 2D-S has been deployed on the NCAR C-130, SPEC Lear, NASA WB57, UND DC-8, and National Research Council (Canadian) Convair.
SPEC's 2D-S data analysis software can calculate particle by particle dimensions yielding concentrations, extinctions, particle size distributions, ice water contents, and other microphysical properties.
Click HERE to see papers showing how 2D-S data are used in Scientific Analysis

Large crystals observed by the 2D-S in upslope cloud at -9 °C.